In this new series, we'll show you life in the vineyard month-by-month in one of the viticultural jewels of Rioja Oriental where Garnacha takes on a personality all of its own.
 Bodegas Valdelacierva is the Riojan project of the Hispanobodegas winery group. Although its base is in the heart of the Rioja Alta sub-zone (Navarrete), the passion and non-conformist approach which guides the winery's technical team took them further a field, and led them to a parcel of very old Garnacha in the village of Tudelilla (photo 3): a jewel in the middle of Rioja Oriental, planted 86 years ago and tended with wisdom and care by the rough, hardened hands of José Luis Sáenz (photo 2), owner of the vineyard. The name itself, Montepedriza, gives us a good idea of the structure of its stony soil (photo 4). An organically poor soil which forces the well-trained roots to dig deep for nourishment and confers on the fruit its unique character.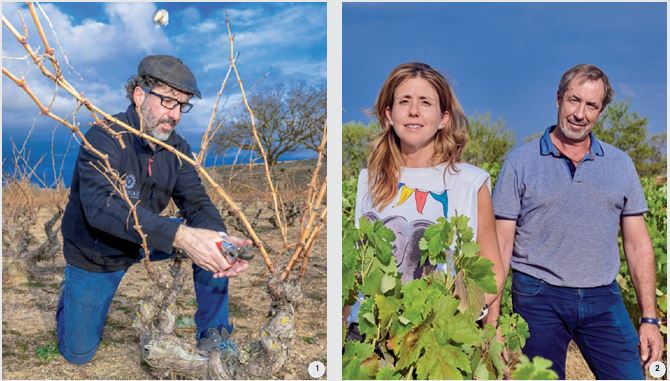 We'll discover more about the work in the vineyard over the next few months. The privilege of learning firsthand from Fernando Ligero (photo 1), head of viticulture at Hispanobodegas, how a vineyard of these characteristics is farmed, will help us appreciate the true value of the wine it produces. We'll appreciate the effort needed to tend each vine individually, and transport the essence of its exquisite fruit to the winery. Once there, it's for Emma Villajos (photo 2), the group's head winemaker, to capture the spirit of this uniquely suggestive Riojan Garnacha in the final wine.
We'd encourage you to take advantage of this wonderful opportunity to follow the evolution of such a prestigious vineyard. As well as the day-to-day tasks, you'll see how more unexpected challenges are dealt with through the calm patience of an experienced and confident winegrower.
_________
Parcel name: Montepedriza
Vines: 86 years old
Grape variety: Garnacha
Soil type: Sandy loam with a generous covering of stones
Training system: Bush vines
Vine density: 3,000 plants/Ha
Altitude: 625 metres above sea level
Parcel size: 0.92 Ha
March rainfall: Historic average: 44.03 litres/m2; 2021: 14 litres/m2
March temperature: Historic average: 10.15 ºC; 2021: 8.8 ºC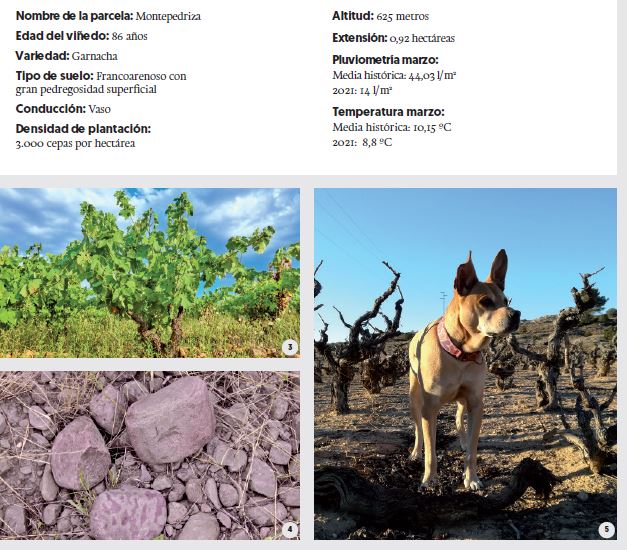 _________
February 2021
On 18 February – accompanied as ever by our dog Luka (photo 5), who loves the countryside at Montepedriza and enjoys running up and down the rows – we pruned the vines. The weather was perfect, with an average temperature around 15ºC and relative humidity of 48%, which helps stave off the much-feared wood diseases caused by various types of fungi. Our approach is to leave one spur per arm and two visible buds. In this way we are able to control the amount of fruit the plant produces and achieve an optimum distribution of clusters, all of which helps the grapes to ripen uniformly.
_________
March 2021
At the end of March, taking advantage of the 10 litres of rain that fell the previous week, we decided to till the soil and add a little organic fertilizer to compensate for the nutrients the plant extracted from the soil in the previous growing season. In this way, we leave the vine prepared and the row grass-free ready for budbreak. Of course, our vines are farmed 100% organically, so when we work the soil we alternate between using the in-row cultivator and cutting back the natural ground cover, depending on the time of year and rainfall. As always happens when we are in Montepedriza, we had to wait for Luka who had gone off on a jaunt into some neighbouring vineyards! Fortunately for us, we had a bottle of our Garnacha to hand…